A cadaveric study on morphometry and variation of subclavian artery: a cross-sectional study
Kapil Amgain

Asst. Professor and Head of Department of Anatomy & Cell Biology, Karnali Academy of Health Sciences, Jumla, Nepal

https://orcid.org/0000-0003-0887-6405

Shalik Ram Adhikari

Lecturer, Department of Anatomy, School of Medicine, Pokhara University

Sujana Neupane

Manmohan Cardiothoracic Vascular and Transplant Center, Kathmandu, Nepal

Prem Prasad Panta

Associate Professor of Biostatistics, School of Medicine, KAHS

Deepak Sharma

Head of Department of Physiology & Biophysics, KAHS

Tarun Paudel

Professor, General Practice & Emergency Medicine, School of Medicine, KAHS

Pratima Neupane

Lecturer, Department of Community Medicine, KAHS

Seshananda Sanjel

Associate Professor, Department of Community Medicine, KAHS
Abstract
Background: The subclavian artery is the source of blood supply to the upper limbs. It is the branch of the arch of the aorta on the left side and brachiocephalic trunk on the right side of the neck. It is used as cannulation site for cardiopulmonary bypass and for the insertion of intra-aortic balloon pumps. So its variations in the branching pattern are very important for surgeons and physician as well.
Method: The study was conducted on 80 embalmed cadavers over the period of 4 years from August 2013 to August 2017 during the routine dissection for the MBBS and BDS students in dissection hall of anatomy department in Jawaharlal Nehru Medical College, Belgaum, Karnataka, India. The digital vernier calliper was used to measure the morphometric parameter. The data were analysed by using SPSS version 20.
Result: Out of 80 cadavers used for dissection, 52 (65%) were male and 28 (35%) were female. The external diameter of the subclavian artery in male was 7.15mm ± 1.7mm and female was 6.85mm ± 1.5mm with significant sexual dimorphism (p=0.002). The classical course of both subclavian arteries was found in 76 (95%) of the artery and the remaining 5% of the artery was found to have an anomalous course.  
Conclusion: The subclavian artery in male had a larger diameter than in the female. The variation in the subclavian artery was common. The knowledge of its average size and its anomalous origin, course and branching pattern might be helpful for the surgeon as well as the physician, for the disease diagnosis, interventional therapy, and surgical procedures. 
Keywords: Subclavian Artery, Morphometry, Variation, Branching Pattern, Anomalous course, Costocervical trunk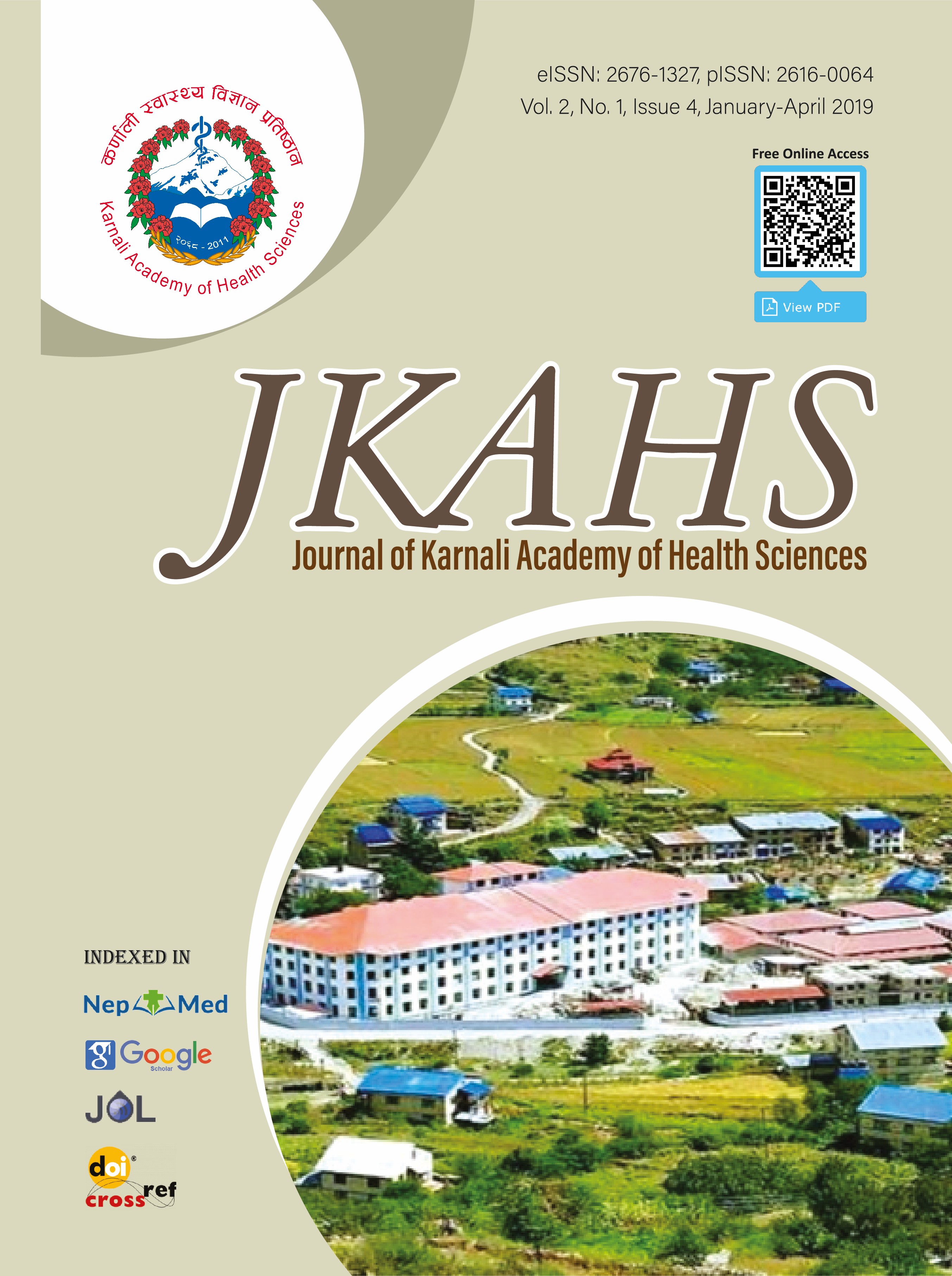 How to Cite
1.
Amgain K, Adhikari S, Neupane S, Panta P, Sharma D, Paudel T, Neupane P, Sanjel S. A cadaveric study on morphometry and variation of subclavian artery: a cross-sectional study. JKAHS [Internet]. 4Jun.2019 [cited 19Oct.2019];2(1). Available from: https://jkahs.org.np/jkahs/index.php/jkahs/article/view/59
Section
Original Articles